Bernard and Carol Boulden (Richards)
The Background of My Parents
My parents were Bernard L. Boulden and Carol Verr Richards Boulden, both deceased, having passed away in 1999. They are buried in a cemetery on Redwood Road in Bluffdale, Utah.
Christmas 1963 Bernard & Carol
with Virginia, Roger & Greg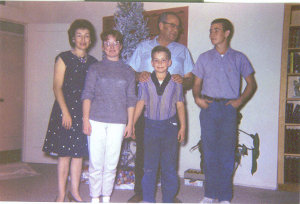 Bernard L. Boulden was born November 29, 1916 in Castle Dale, Utah, the third son of William Barton Boulden and Annetta Jane de Cunha Boulden. At birth, he was given the middle name "Lee". I share that name, and like him, I abbreviate it in daily usage. By coincidence, my wife has the same middle name. And by plan, our daughter Monica and granddaughter Hannah and grandson Christian also have the middle name of "Lee".

William was the oldest surviving son of Joseph Louis Boulden, one of the original settlers of that part of Utah. His wife, Annetta, was the daughter of Jose de Cunha Pacheco, who emigrated here from the Azores Islands and married Alice Rozella Higgins, a granddaughter of Capt. Nelson Higgins of the Mormon Battalion and Zion's Camp. When my Father was about 6 weeks old, his family immigrated to the Uintah Basin of eastern Utah, settling in the Cedar View area where Grandfather homesteaded 80 acres of farmland. Dad was part of a large family. His siblings were, from oldest to youngest: Rozella, Violet, Gladys, Joe, Bill, Dad, Beverly, Wini, Colleen, and Glen. Rozella died young, at around two years of age; the others grew to maturity. Only Wini survives today, after Colleen and her husband, Duke Casper, died in 2005.

As a homestead family during the years of the Great Depression, this family was raised in what can honestly be called dire poverty. Grandmother made much of the family's cash by selling cream from the cows to local creameries. Grandfather raised most of the food, hunted for meat game, and earned occasional cash by taking odd jobs, cutting wooden fence posts from the surrounding hills, etc.

Once Grandma B needed a milk pitcher for the family, and found one in a store for only a nickel. It was so cheap because it had a large, visible crack in it. She bought it despite the crack, used it carefully for decades. I have it now as a memento of her… a large, blue, ceramic pitcher with a crack.

Dad earned much of his spending money by playing banjo and guitar in local bands, including one Indian musical band in which he was the only non-Indian member. Later, he had a radio show in Salt Lake, playing and singing "western" music—today, it would be called "country music" -- on KSL radio.

My Grandmother Boulden was a very strong personality who played a key role in shaping me. She was extremely frugal, deeply religious. She was a writer who published stories in the Deseret News, one of Salt Lake's major newspapers. Because she had been unable to get an education, she valued education and intelligence, and encouraged me to that end. She believed in politics and worked as an election judge for decades. And she was very stalwart in the LDS Church.
Back: William W. Richards, Carol V. Richards,
Clothiel E. Richards
Front: William W. Richards, Lillian V. Richards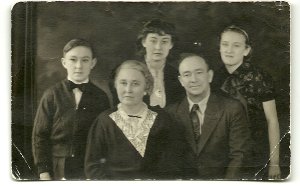 Carol Verr Richards was born near Salt Lake City on November 14, 1921. Her parents were William Wilford Richards and Lillian Verr Wallace. They lived on a small farm in Granger, Utah, on 3200 West. My grandfather Richards worked for many years as a carpenter with mining and smelting organizations that became part of Kennecott Copper Company in the hills east of Salt Lake.

He served in the Navy during World War I, and trained as an English teacher, but for health reasons, never practiced that profession, and often talked about his disappointment at never having become a teacher. He had wanted to write, and wrote several novels -- westerns – that were never published. I have seen his original longhand manuscripts, but do not know who has them today.

Grandmother Richards was a kindly woman who, as a young person, had worked as a nurse and sung with the famed Mormon Tabernacle Choir. Their Granger farm was "five acres square", and on it, they raised wonderful fruit and vegetables.

They had three children: My mother was the eldest, then her sister, Clothiel, and youngest was her brother, Billy. (Grandfather was always "Bill", and his son was always "Billy" to differentiate. And when Clothiel named one of her sons William, he became "Little Billy" to further differentiate. Grandpa Bill was killed in an accident in 1955, and Uncle Billy died many years ago, and the youngest William may still be called Little Billy for all I know.)

Mother was raised in more comfortable circumstances than Father. Her folks lived modestly, on a workingman's wages, but did not face the grinding poverty that Dad's family experienced.

Mother loved music as much as Dad. She played trombone in the school band… an instrument she disliked, and took up only at the urging of her father. After she got married, she never played it again, but she enjoyed music. She and Dad sang often with each other, around the house or in the car. She had a knack for singing harmony to his strong lead voice… a metaphor for their life together.

They met in the late 1930's, married in 1940, gave birth to me in 1941. Mother had a difficult pregnancy with me, and didn't have another child until my brother, Roger Allen Boulden, was born in 1947. Then there was another long hiatus before my youngest brother, Gregory Lynn Boulden, was born in 1954.

My parents truly loved each other, and were happy with each other. Later in life, as their health failed, mother sank into dementia from Alzheimer's disease, and Father became incapacitated with heart disease and complications of diabetes, but they still took care of each other. Mother remained strong physically, and Dad was strong mentally, and they worked together for their common good until they died in 1999. I miss them.

Larry Boulden, 2001